KAVKAZ GROUP
GEORGIAN BUILDING GROUP
In July 2010, Kavkaz Cement JSC purchased a 60% ownership interest in Georgian Building Group LLC (GBG), whose main cement production facility is located at Avjala in Tbilisi.
The plant has an annual production capacity of 250,000 tons of cement. High technology equipment and a professional team  provides Georgia with various types of high-quality cement. Different types of packing (bulked and bagged) and delivery (self pick-up and truck delivery) is offered to our customers for their convenience.

KAVKAZ CEMENT WEST
Kavkaz Cement West (KC West) was established in 2010 and began cement production in Poti, Western Georgia in September 2011. Annual capacity of the cement plant is 200,000 ton per year. Our cement meets the needs of the our customers and in accordance with the requirements of International standards.
KC West offers different types of bulked and bagged cement.
At present the plant  is producing three types of Portland Cement:
Portland Cement  – CEM II/A-P 32.5
Portland Cement -  CEM I/A-D, 42,5

KAVKAZ CEMENT GEORGIA
In 2010, Kavkaz Cement established the company Kavkaz Cement Georgia (KC Georgia) and began production of concrete and raw materials in Poti and Natanebi, Western Georgia.
Later KC Georgia put into operation a new stationary batching plant in Tbilisi.
Nowadays the company offers a variety of high quality ready-mixed concrete and provides  full service with mixer trucks and mobile pumps.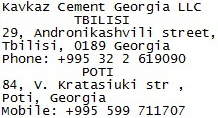 GEORGIAN BUILDING  MATERIALS
In late August 2008, JSC Kavkaz Cement (Kavkaz) completed its first acquisition, that of its now 75% interest in Georgian Building Materials LLC (GBM), the leading producer of yellow sand in Georgia.  GBM owns two large yellow sand quarries in the vicinity of Surami and a wash facility is located nearby, in Gomi, on the Mtkvari River.  Unwashed sand can be purchased directly at the quarry or can be delivered directly to your construction site in our trucks.  The same is possible for the washed sand produced at the Gomi site.